What is Stills Disease
What is Stills Disease? Stills disease is a form of juvenile rheumatoid arthritis characterized by high spike fever, intermittent rashes and arthritis. It is known to be common in children and rarely affects adult over 40 years of age. Dr. George Still first described this disease in 1897. This disease can also be associated with inflammation of the internal organs.
Stills Disease in Adult
Stills disease is more common in children although it can be present in adult. Adult Still's disease is a rare inflammation condition that may lead to chronic arthritis and other medical complications. It is now more commonly termed as Adult-onset Still disease. Adult onset still disease is more common to women than in men.
Stills Disease in Children
Stills disease in children is also known as Juvenile Rheumatoid Arthritis often affecting children 16 years old and below. It affects the joint and may also affect the internal organ. Children with this disease experience stiffness in the joint and swelling in the joint that cause reduced motion. This type of disease may hinder growth of children.
Stills Disease Symptoms
Adult still's disease symptoms
Fever – intermittent fever that last for a week or longer is experienced usually in the late afternoon or early evening. It usually occurs in two spike fever a day and the temperature in between are usually at normal range.
Rash – rash appears when provoke by rubbing and this rash described as salmon pink in color and is sometimes bumpy or flat usually appear during onset of fever and can be found on trunk, arms and legs.
Painful swollen joints – the joints such as the knees, ankles, wrists, shoulders and hands usually have stiffness. Accompanied by stiffness is pain and swelling in the joints.
Muscle pain – muscle pain exists with fever and also subsides together with the fever although the pain is severe that it can be uncomfortable and hinder daily activities.
Children still's disease symptoms
Limping – a child experience limping usually in the morning due to stiffness in ankle joint
Extreme fatigue – it usually occur with onset of fever
Fever spike – occurs daily at 39C or even higher and return to normal temperature rapidly. The fevers usually happen approximately the same time every day.
Rash – salmon-pink colored rash appears although not itchy
Other symptoms include:
Poor appetite
Nausea
Weight loss
Sore throat
Lymph glands swelling
Spleen enlargement
Liver enlargement
Pericarditis
Pleuritis
Pericardial effusion
Pleural effusion
Joint swelling
Stills Disease Rash
Stills disease rash is characterized as bumpy and or sometimes flat. It is salmon pink in color and is not itchy. The rash can be found on the trunk, arms and legs. When provoke by physical contact such as rubbing, the rash will appear.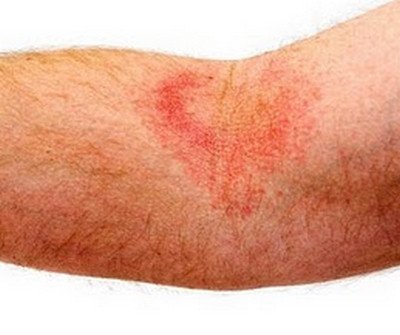 Picture : Stills Disease Rash
Stills Disease Causes
Causes of adult still disease have been unknown although it has been correlated with viral and bacterial infection.
Juvenile idiopathic arthritis has been said to be a disorder of the autoimmune system in which the body's own immune system is attacking and destroying tissues in the joint area with unknown reason. Other factor considered for the cause of this disease is genetic predisposition. It is also believed that sex hormones may be the cause since women are more affected with still's disease than men.
Still's Disease Diagnosis
No single medical test is done to confirm still's disease as it is difficult to identify the cause because joint pain can be from various causes. Combinations of test are used to isolate still's disease. Below are list of test or procedures that may be combined to diagnose still's disease.
Clinical presentation
Blood test
X-rays
Ultrasound
Fluid aspiration and analysis
Stills Disease Treatment
Treatment for stills disease is geared toward regaining physical and social activities and managing areas of inflammation.
Non-steroidal anti-inflammatory drugs
Intra-articular corticosteroid injection
Methotrexate
TNF alpha blockers like etanercept
Surgery
Physical therapy
Stills Disease Prognosis
Children affected with stills disease can lead a normal life and resume normal activities if the disease is addressed properly. It is also important for family and patient of stills disease to be educated on the case of the disease in order for them to understand and to provide significant care to member of the family afflicted with stills disease. Poor growth and worsening joint function may occur to patient who is not properly and promptly treated for this disorder.
Leave a Reply
You must be logged in to post a comment.